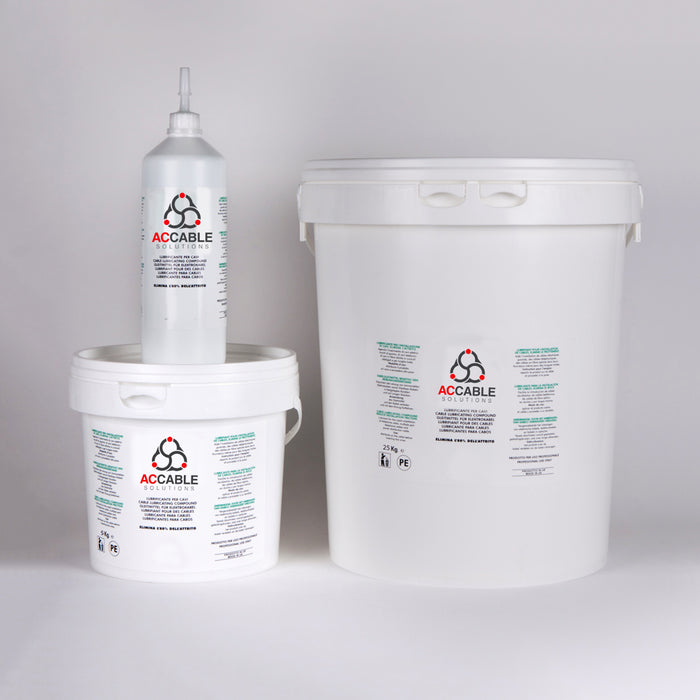 AC1 – General Purpose Cable Lube
Description
AC1 Cable Lubricant is a type of lubricant that is specifically designed to be used on cables, wires, and other types of electrical equipment. It is typically a viscous substance that is applied to the cable or wire to reduce friction and make it easier to install or move through conduit or other tight spaces.
AC1 cable is an excellent general-purpose water-based lubricant designed to reduce friction, prevent corrosion, and protect the cable or wire from damage generated between rubber-to-rubber, rubber-to-plastic and plastic-to-plastic surfaces.
AC1 eliminates up to 90% of friction while running new cables within ducts or boreholes. One of its main characteristics is that it remains coated to the cable even in the areas where it is subject to high friction. This unique feature allows you to install more cable for the same quantity of product applied.
When applying AC1 lubricant, it is important to follow the instructions carefully to ensure that the lubricant is applied in the right amount and in the right locations. Over-lubrication can lead to messy and inefficient application, while under-lubrication can lead to damage to the cable or wire during installation.
Overall, AC1 cable lubricant can be a useful tool for electricians and others who work with cables and wires, as it can make their work easier, faster, and more efficient.

Areas of Use
AC1 Can be used on all types of cables, from large to small, on short and long runs.
| Part No. | SIze | For Use With |
| --- | --- | --- |
| AC1-250 | 250ml Tube | All Cables  |
| AC1-500 | 500ml Bottle | All Cables |
| AC1-1000 | 1000ml Bottle | All Cables |
| AC1-5 | 5kg Bucket | All Cables |
| AC1-15 | 15kg Bucket | All Cables |
| AC1-20 | 20kg Bucket | All Cables |
| AC1-25 | 25kg Bucket | All Cables |
Instructions
Apply AC1 on the cable with a sponge or a brush and proceed with the installation using the
usual cable installation techniques.
The water in the cream evaporates over time, leaving a layer of lubricant on the cable and facilitating any replacement or introduction of other cables in the same pipe in the future.
AC1 is a non-toxic, inert, non-flammable product.
Keep away from porous or delicate surfaces. To remove the product, use soap and water and, if necessary, degreasers or detergents for fabrics or floors.
Technical Features
Appearance white
No smell
Viscosity of penetration cone: 36,0 mm ±2,0 mm
Specific weight 0,99 gr/cm3
pH neutral, da 6,5 a 7,5
Application temperature 0 to + 50 C°
Non-toxic